Coming soon
Salafismus als transnationale Bewegung am Beispiel von Frauen im Jihad.
Spring 2019
"Salafismus in Deutschland – Entstehung und Transformation einer radikal-islamischen Bewegung."
Preface: Prof. Dr. Dr. Peter Antes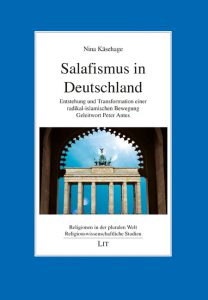 http://www.lit-verlag.de/isbn/3-643-14304-4
https://www.amazon.de/Salafismus-Deutschland-Entstehung-Transformation-radikal-islamischen/dp/3643143044/ref=sr_1_3?ie=UTF8&qid=1550573769&sr=8-3&keywords=K%C3%A4sehage
Spring 2018
Publication of my dissertation 'The contemporary Salafi Scene in Germany – Preachers and Adherents'. This empirical study is the first basic research about the current Salafi Movement in Germany so far. I conducted 1o5 interviews with considerable Salafi-Preacher and Salafi-Actor in Germany. It shows for instance their social backgrounds, their aims to become adherents of the Salafi Movement and – in parts – their interests of taking part in the so called Jihad in Syria and Iraq. Based on the empiricism of the conducted interviews, this survey gives several de-radicalisation-recommendations and prevention-approaches for the theory and for the practice as well.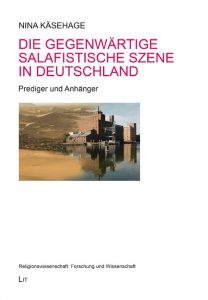 Reviews to the PhD 'The contemporary Salafist Milieu in Germany. Preachers and Followers'

Spring 2017
Publication of my  study about Chechen women and their individual motives as well as their influence on young German women: Dschihad als Ausweg – Warum tschetschenische Frauen in den Krieg ziehen und deutsche Kämpferinnen ihnen folgen:
Dschihad als Ausweg: Warum tschetschenische Frauen in den Krieg ziehen und deutsche Kämpferinnen ihnen folgen (Verlag zu Klampen)
Dschihad als Ausweg: Warum tschetschenische Frauen in den Krieg ziehen und deutsche Kämpferinnen ihnen folgen (Amazon)
Spring 2016
Publication of my  study about Conversion to Islam in Germany, that based upon a sample of 38 interviews with german converts, among them notable German Salafi preacher, and represents the foundation of my current Salafim Research:
Konversion zum Islam innerhalb Deutschlands: Unter besonderer Berücksichtigung verfassungsrechtlicher Fragen (Verlag Dr. Kovac)
Konversion zum Islam innerhalb Deutschlands: Unter besonderer Berücksichtigung verfassungsrechtlicher Fragen (Amazon)