Forthcoming
Frauen im Dschihad – Salafismus als transnationale Bewegung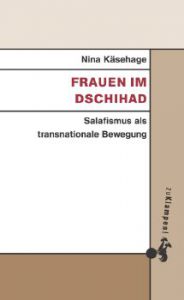 https://zuklampen.de/buecher/sachbuch/politik/bk/958-frauen-im-dschihad.html
https://www.amazon.de/Frauen-Dschihad-Salafismus-transnationale-Bewegung/dp/3866746199/ref=sr_1_3?__mk_de_DE=%C3%85M%C3%85%C5%BD%C3%95%C3%91&dchild=1&keywords=k%C3%A4sehage&qid=1585641891&sr=8-3
March 2021

Religious Fundamentalism in the Age of Pandemic
The multidisciplinary anthology Religious Fundamentalism in the Age of Pandemic provides deep insights concerning the current impact of Covid-19 on various religious groups and believers around the world. Based on contributions of well-known scholars in the field of Religious Fundamentalism, the contributors offer about a window into the origins of religious fundamentalism and the development of these movements as well as the creation of the category itself. Further recommendations regarding specific (fundamentalist) religious groups and actors and their possible development within Buddhism, Christianity, Islam and Judaism round up the discussion about the rise of Religious Fundamentalism in the Age of Pandemic.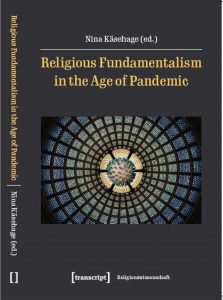 https://www.transcript-verlag.de/978-3-8376-5485-1/religious-fundamentalism-in-the-age-of-pandemic/
Reviews:
Terrorism and Political Violence, Volume 33, 2021, issue 5: Review by Prof. János Besenyo, Óbuda University: 'Religious Fundamentalism in the Age of Pandemic by Nina Käsehage': https://www.tandfonline.com/doi/abs/10.1080/09546553.2021.1939534
November 2020
Prevention of Violent Extremism in Western Muslim Diasporas
At the present time, various forms of violent extremism in the left- and right-wing as well as in the jihadist milieus seem to increase all over the world. This development produces a lot of concerns within Western societies and is often fueled by populist actors in terms of their own purposes. The present book seeks to clarify the real situations and possible threats that are currently occurring with regard to the three considered violent extremist movements in Belgium, Canada, Denmark, France, Germany, Great Britain, The Netherlands and the United States of America (USA).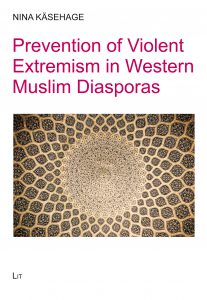 https://www.lit-verlag.de/isbn/978-3-643-91358-6?c=6751
Spring 2020
'Militant Islam' vs. 'Islamic Militancy'? Religion, Violence, Category Formation and Applied Research. Contested Fields in the Discourses of Scholarship (co-ed. with Prof. Dr. Klaus Hock)

Discourses on 'radical Islam', on 'Islamic extremism', or on 'religious violence' in Islamic contexts are en vogue – in and beyond academia. But in view of the highly contested topic of political Islam, the challenge starts already with the preferred terminology. What actually are we talking about when we talk about 'salafism', 'jihadism', 'Islamic terrorism', etc.?
This edited volume provides a collection of contributions (e.g. Hans G. Kippenberg, Alex P. Schmid and Reinhard Schulze) that due to their respective academic cultures and disciplinary locations display a multifaceted variety of approaches to the research field and its subject.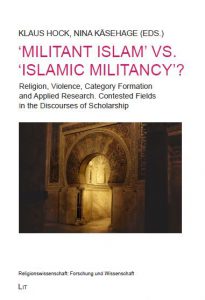 https://www.lit-verlag.de/publikationen/theologie/73573/militant-islam-vs.-islamic-militancy
https://www.amazon.de/Militant-Islam-vs-Islamic-Militancy/dp/3643912757/ref=sr_1_2?__mk_de_DE=%C3%85M%C3%85%C5%BD%C3%95%C3%91&dchild=1&keywords=k%C3%A4sehage&qid=1585642442&sr=8-2
Reviews:
Perspectives on Terrorism (PoT), Vol. 14, no. 3, June 2020, Rezension von Prof. Ahmet S. Yayla, DeSales University for Homeland Security: "Book Review: Klaus Hock & Nina Käsehage. 'Militant' Islam vs. 'Islamic Militancy'? Religion, Violence, Category Formation and Applied Research. Contested Fields in the Discourses of Scholarship::
https://www.jstor.org/stable/26918324?seq=1#metadata_info_tab_contents
Spring 2019
Salafismus in Deutschland – Entstehung und Transformation einer radikal-islamischen Bewegung
Preface: Prof. Dr. Dr. Peter Antes
This monography provides deep insights into the historical development of the German Jihadist and Salafist Scene. In addition it contributes information about the case of Abu Waala, the Iraqi representative of Daesh in Germany. Furthermore, it draws a picture of the possible development of the DITB, the largest Muslim (Diaspora) Community in Germany with roots in Turkey.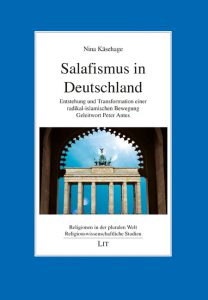 http://www.lit-verlag.de/isbn/3-643-14304-4
https://www.amazon.de/Salafismus-Deutschland-Entstehung-Transformation-radikal-islamischen/dp/3643143044/ref=sr_1_3?ie=UTF8&qid=1550573769&sr=8-3&keywords=K%C3%A4sehage
Spring 2018
Publication of my dissertation The contemporary Salafi Scene in Germany – Preachers and Adherents. This empirical study is the
first basic research

about the current Salafi Movement in Germany so far. I conducted 1o5 interviews with considerable Salafi-Preacher and Salafi-Actor in Germany. It shows for instance their social backgrounds, their aims to become adherents of the Salafi Movement and – in parts – their interests of taking part in the so called Jihad in Syria and Iraq. Based on the empiricism of the conducted interviews, this survey gives several de-radicalisation-recommendations and prevention-approaches for the theory and for the practice as well.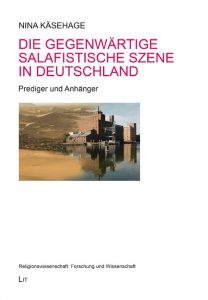 Reviews to the PhD The contemporary Salafist Milieu in Germany. Preachers and Followers:

Spring 2017
Publication of my  study about Chechen women and their individual motives as well as their influence on young German women:


D

schihad als Ausweg – Warum tschetschenische Frauen in den Krieg ziehen und deutsche Kämpferinnen ihnen folgen: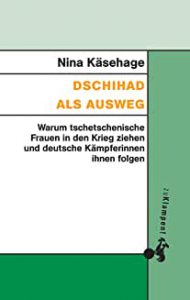 Dschihad als Ausweg: Warum tschetschenische Frauen in den Krieg ziehen und deutsche Kämpferinnen ihnen folgen (Verlag zu Klampen)
Dschihad als Ausweg: Warum tschetschenische Frauen in den Krieg ziehen und deutsche Kämpferinnen ihnen folgen (Amazon)
Spring 2016
Publication of my  study about Conversion to Islam in Germany with particular regard to constitutional questions, that based upon a sample of 38 interviews with german converts, among them notable German Salafi preacher, and represents the foundation of my current Salafim Research: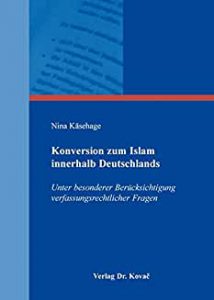 Konversion zum Islam innerhalb Deutschlands: Unter besonderer Berücksichtigung verfassungsrechtlicher Fragen (Verlag Dr. Kovac)
Konversion zum Islam innerhalb Deutschlands: Unter besonderer Berücksichtigung verfassungsrechtlicher Fragen (Amazon)